Here's my next three pages.
6th
Paiges 16th birthday - she always manages to have a page in the DDaily!
7th
This seems like an awful heading for a DDaily page, but - its a book/dvd series and a (older) teenage craze atm... and heavily discussed at Paiges birthday party. Weeeell it's whats being read etc in our house this Dec (heaven forbid- I think its just horribly awful
!)and luckily its only one genre appreciated by my girls (phew)
LOL I wont write my opinion of it in the DecDaily (but can certainly write it here) as I'm sure I'd be viewed as a 'dinosaur fuddy-duddy'!
8th
Lastly, Hannah and Paige had practice today - Christmas Carols Concert which they have a duet. I managed to sneak in at the end just in time to hear their song,(Angel's Carol) weeeeeeell - I was reduced to tears hearing their voices harmonise - I felt a bit silly, but no matter - was way full of pride ( and sneaked a pic through the tears hoping it wouldnt be blurry)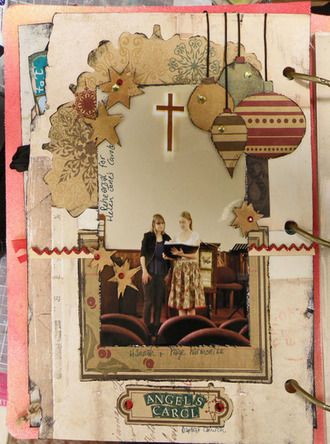 Products:
Prima Tiny Alphabet Stickers
http://www.scraptherapy.com.au/proddetail.php?prod=FP1361
Teresa Collins Rhinestones
MME The Sweetest Thing Bluebird Crocheted Doilies
Just want to add that I love the size of this album - inside pages are about 7x9inches. Plenty of scope to try all sorts of inserts
-------------------------------------------------
This LO was a bit of fun created for
SCRAP THERAPY
with a bunch of stickers and diecuts with layering and didnt take long, probably the longest part was the placement
!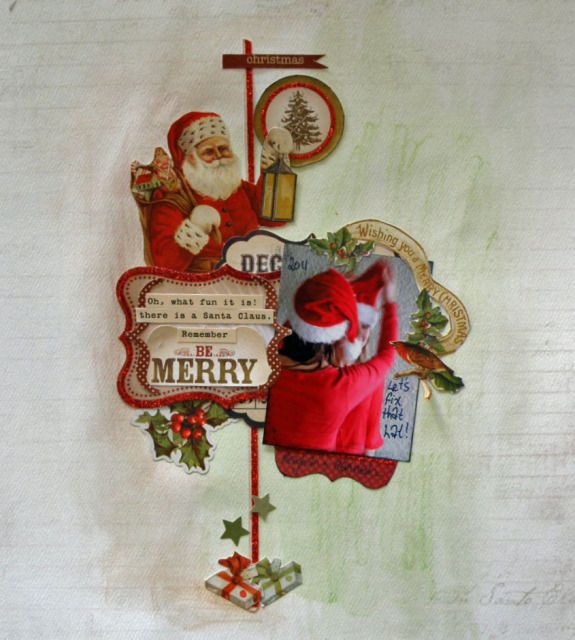 Just use a little watercolour pencil to give it some depth and definition along with these products:
Carta Bella Christmas Day Snow White Paper
MME Lost & Found Christmas Accessory Sheet
Carta Bella Christmas Day Element Stickers
I always love a scene with Santa Claus watching on! It creates an fun festive atmosphere