Here's my first few pages! I'm using a up a lot of my Christmas stash I've had for ages. So its going to be all brands - whatever suits!
Day 1
(which is a double page as it was a biggy day and end to our production for the year, did blur out some names etc
) One side has flaps and the other side has one photo becoming a pocket and lots of little photos and a ticket etc poked into it. Paige was a 'Blossom' and 'Mr Lizard'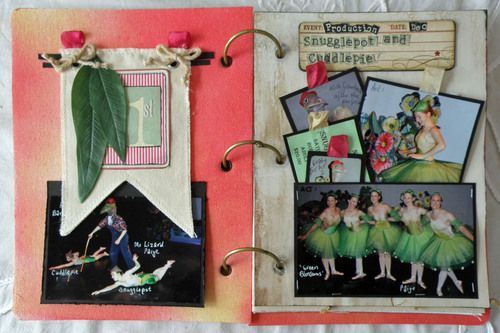 Here's extra detail on the first page (which is the other side of the cover - didnt want to waste space
) Hannah was Wardrobe Mistress and did a fabulous job
DAY 2
Last pic before Grandma goes home on the Bus (6 hours!) but she wont miss our production for the world!
Here's the
link
to the covers and these pages included to keep it all in one place (wink)
----------------------------------------------------
Here's a festive background using paints and stamps along with some diecuts to embellish...
Miss Maggie Mae!
The
Tim Holtz Festive Greenery Die
is just wonderful! I love the swirls, the leaves and the mix of shapes to create!
The stamp is Tim Holtz and is a leaf called 'Maple', the ones left in the shop are
Oak
and
Birch
both as gorgeous as the one I've used and they are such a great size!
The background paper is
Carta Bella, Winter Fun Ice White
Paint has been sponged on lightly by opening the lid and applying to an sea sponge - its
Ranger Dabber Red Pepper
and a grey paint with the stamp over the top. Looks really messy here doesnt it!
Add the fabby
Websters Trim
(one of my favourite groups of trims!)
And arrange the diecut leaves and swirls .... all done!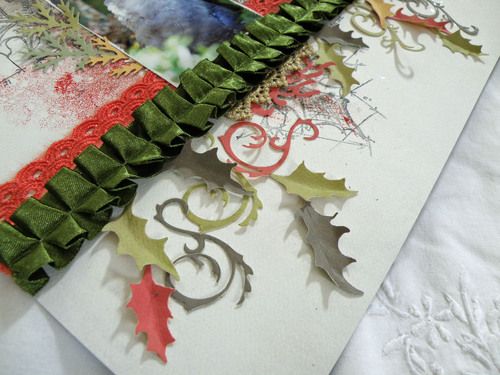 -----------------------------------------------
Now with our production over, theatre packed up and sets and costumes stashed away...
I'm on holidays until mid February!!!