I'm soooo excited to start my December Daily and its my 4th one!
Each year I learn more about what I love/like, dont like and what I'd like to try (whether it works or not - there's always Plan 'B' - and I've often reverted to that!)
Here it is (I've just randomly grabbed ribbon and tied on the rings... its there to show a 'kinda' finished look.... I'll wait until the album is complete before choosing the ribbons properly)
I had in my mind very early in the year to use these
Prima Resist Covers
, so bought them and put them aside till now.
The covers are 7 1/2 x 9 1/2ins so pretty much the insides would be about 7x9ins. At first I thought this might be too big! But thinking about my previous albums - there are really important days where I've had to do a few pages to cover one day - so maybe this time, I'll do say a 'tag' page for a small event day - and a large page that fits to the covers for the big event days for instance. See - we keep learning
There's so much scope with these covers. I did a Prima Canvas album year before last - and swore I'd never do another (just a tad bit of extra work) - but its the one I LOVE the most out of all of them... so here I am again - having another shot at a slightly different one! (Let's see if I'm sorry or not by its end
)
I've just got a couple of steps below how the cover developed
Step One
As its a 'resist' cover, that means you can spray your colour onto the surface and the image or scripts underneath will remain visable. I cut out a couple of stars - one big and one smaller and placed on the cover to act as a mask and sprayed.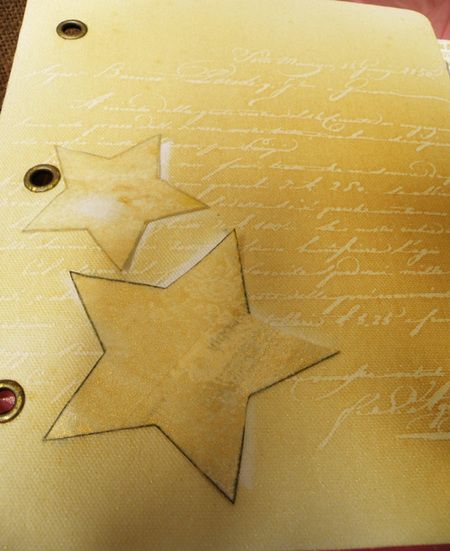 Step Two
Before the stars came off - I sprayed with a orange red to deepen the colour.
(Dont forget to spray inside the covers too so it looks finished when opening the book)
The paper (mask) stars were not thrown away - I used Dimensional Magic on them as well as the little glittery centres that go on the stars. If you love products like
MME Lost and Found Christmas
that has lots of glitter (it does tend to rub off and get everywhere) then Dimensional Magic will seal it and yet it still looks fabby and glittery!
Other products used:
MME Lost and Found Chipboard Element
Day 1
(which is a double page as it was a biggy day and end to our production for the year, did blur out some names etc
) One side has flaps and the other side has one photo becoming a pocket and lots of little photos and a ticket etc poked into it. Paige was a 'Blossom' and 'Mr Lizard'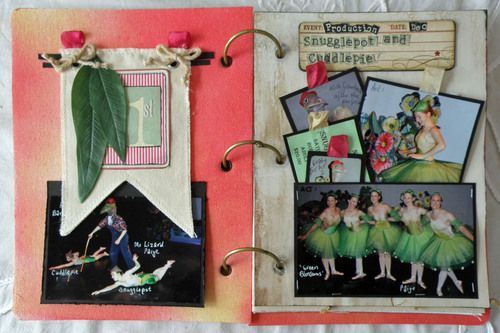 Here's extra detail on the first page (which is the other side of the cover - didnt want to waste space
) Hannah was Wardrobe Mistress and did a fabulous job
DAY 2
Last pic before Grandma goes home on the bus (6 hours!) but she wont miss our production for the world!
Heres the 3rd with Paige receiving a letter for a Year 10 award at Speech Night for her school
She was very excited!
Day 4
My Scrappy Mates....we have so much fun together
My yearly lino cuts. Luckily my teacher had holly growing in her garden, so I sketched it and cut the
image out. The prints will go on Christmas Cards.
6th
Paiges 16th birthday - she always manages to have a page in the DDaily!
7th
This seems like an awful heading for a DDaily page, but - its a book/dvd series and a (older) teenage craze atm... and heavily discussed at Paiges birthday party. Weeeell it's whats being read etc in our house this Dec (heaven forbid- I think its just horribly awful
!)and luckily its only one genre appreciated by my girls (phew)
LOL I wont write my opinion of it in the DecDaily (but can certainly write it here) as I'm sure I'd be viewed as a 'dinosaur fuddy-duddy'!
8th
Lastly, Hannah and Paige had practice today - Christmas Carols Concert which they have a duet. I managed to sneak in at the end just in time to hear their song,(Angel's Carol) weeeeeeell - I was reduced to tears hearing their voices harmonise - I felt a bit silly, but no matter - was way full of pride ( and sneaked a pic through the tears hoping it wouldnt be blurry)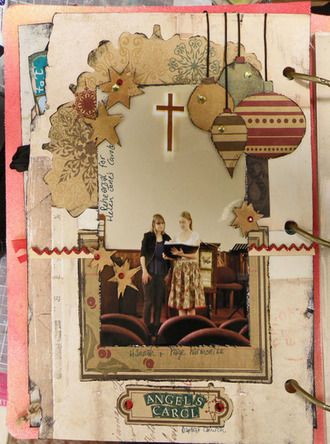 Products:
Prima Tiny Alphabet Stickers
http://www.scraptherapy.com.au/proddetail.php?prod=FP1361
Teresa Collins Rhinestones
MME The Sweetest Thing Bluebird Crocheted Doilies
Family reunions are a great place to get photos!
I've made this page from fabric and added a felt tree then used the sewing machine to sew branches in red.
I sewed two pieces of fabric together and added some cardstock in the middle.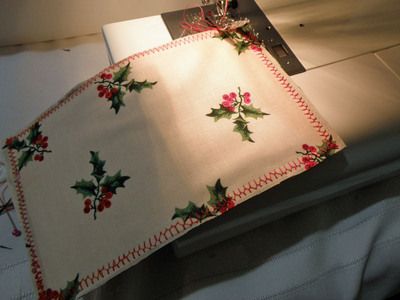 And here's the otherside of the fabric page for
DAY 10
Paige's award night at school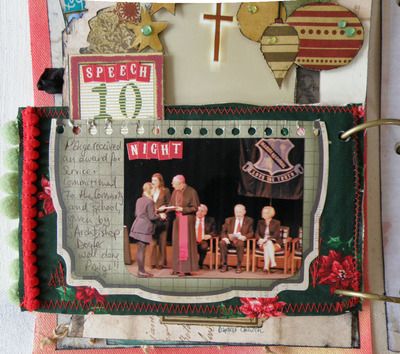 DAY 11
DAY 12
Up goes the tree at long last!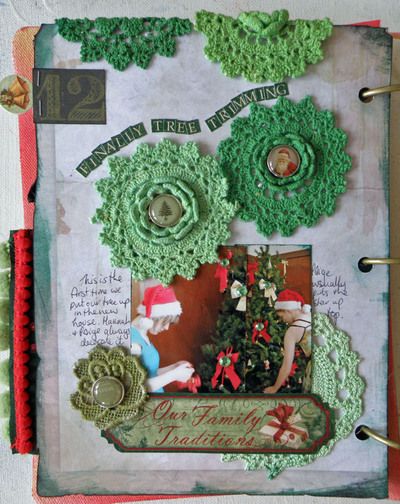 Products
Carta Bella Decorative Brads
Teresa Collins Christmas Home Rhinestones
Day 13
Hannah had been to the hairdressers.
This was a little chipboard star that was covered with paper on both sides. I stitched and gathered some red tulle too.
Day 14
The other side of the star. Paige after her last violin performance for the year.
Day 15
My In-laws 60th Wedding Anniversary, where there's a pocket to store many little photos.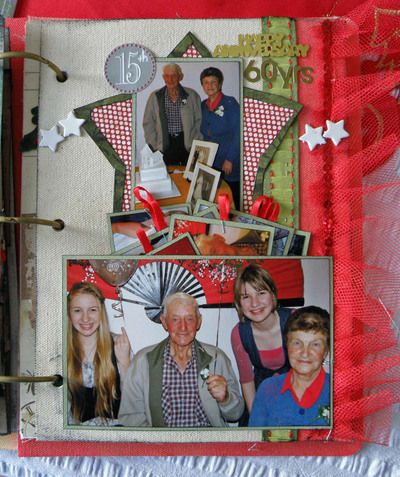 Day 16
Hannah and Paige's last singing concert for the year held at the Art Gallery. With their teacher. Trims are strung across to hold the photos in.
Day 17
Products
Bo Bunny Noel 'Joy' Paper
on the star.
MME Merry Day's of Christmas Gingerbread House Paper
DEC 18TH
How lucky... Blackie was hiding under the Christmas Tree - perfect time to get a Christmassy pic of him!!! We had a visitor...and he just gets unhappy when strangers are around - this is not a merry pic of him at all!
But nonetheless - it is him.
DEC 19TH
Our little Break-up party at art.. it has a flip page to it...
DEC 20TH
A very very happy Hannah with her letter from school winning two awards
(I have obsured some of the identity names and info at times)
Day 21
Closed envelope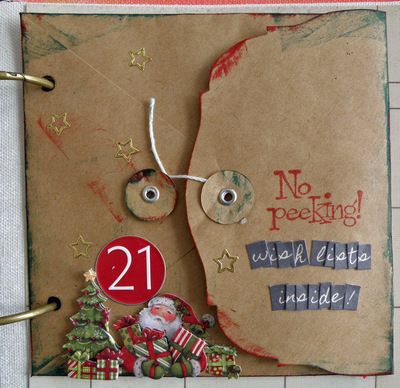 Day 21
Opened envelope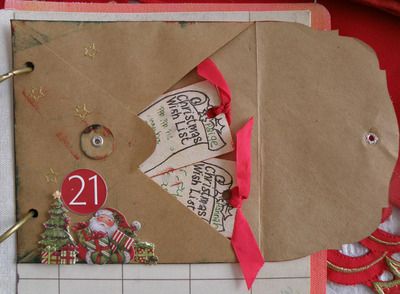 Day 22
The flip-side of the envelope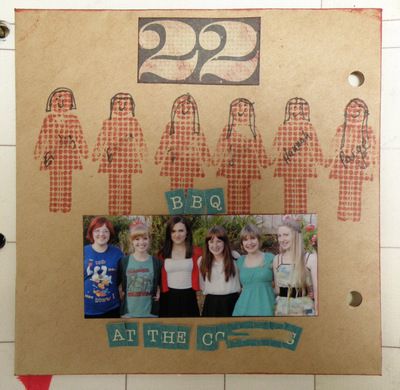 Day 23
Day 24
Day 25
Intro page to Christmas Day
I'm not sure why I did this, but it just happened - we did ALOT on Christmas Day!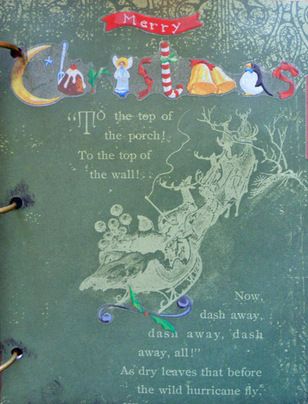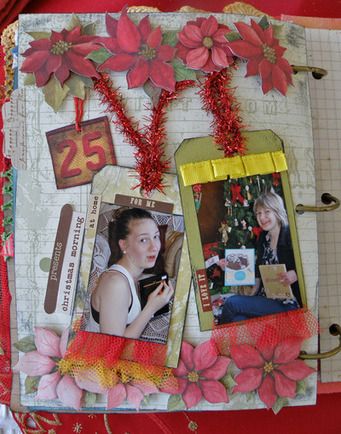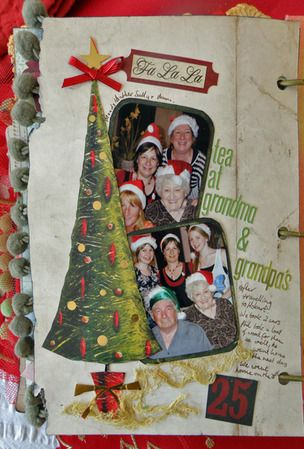 Covers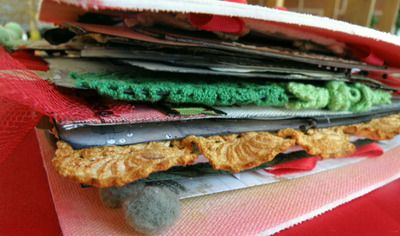 There.... all done!
Just want to add that I love the size of this album - inside pages are about 7x9inches. Plenty of scope to try all sorts of inserts
--------------------------------------------------
Here are my
December 2011
December 2010
December 2009
Here's some links to Scrap Therapy's
December Dailys and other Christmas Projects