This past week I've been working in Sydney and tomorrow flying onto Brisbane until Good Friday. I'll be so pleased to get home to my family and get back into my own bed!
Oh my gosh... my sore feet! My mantra in my mind lately has been 'Im too old for this'! LOL!
Anyway, before I left I had to prepare so many DT works to be ready for reveals while away so that was another race against the clock!
I'm look forward to having this weekend off to catch up on some blog hopping and chatter!!!
---------------------------------------------------------
TERESA COLLINS FREESTYLE ALBUM
Creating with the
'Freestyle'
range is just a joy! One of the things I've worked out using Teresa Collins paper is that its much easier using black and white photos! As soon as I laid eyes on the these papers, I knew I would create a mini-album of Hannah's first ball.
To make the pages inside, I've traced the covers and cut the paper a bit smaller in size. I've stuck two pages together to form one page - this made is quite sturdy as the paper is quite thick.
Hannah looked like a princess and the 'Freestyle' Album Paper Kit is sooooo perfect!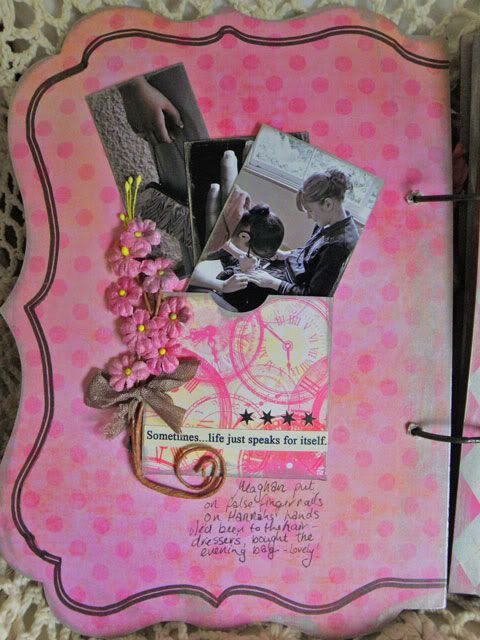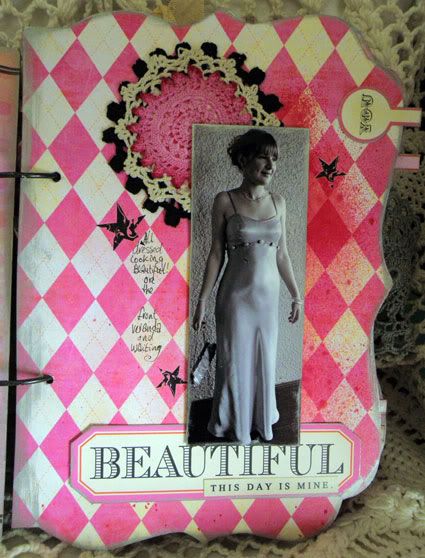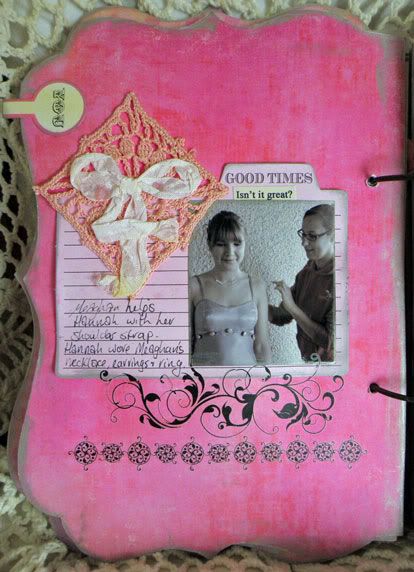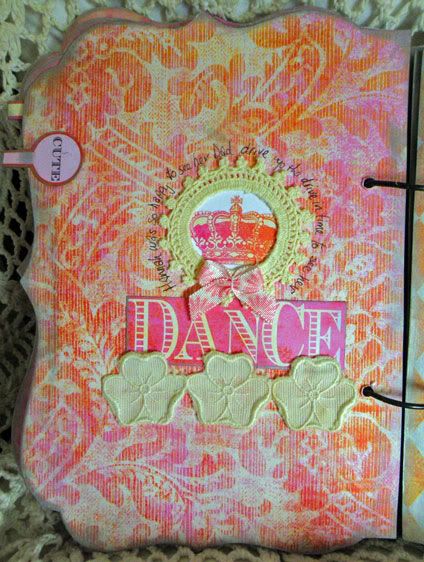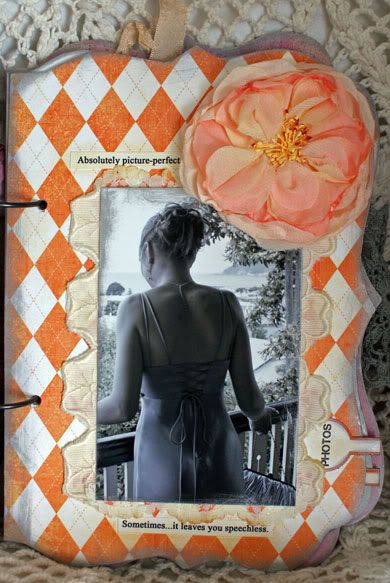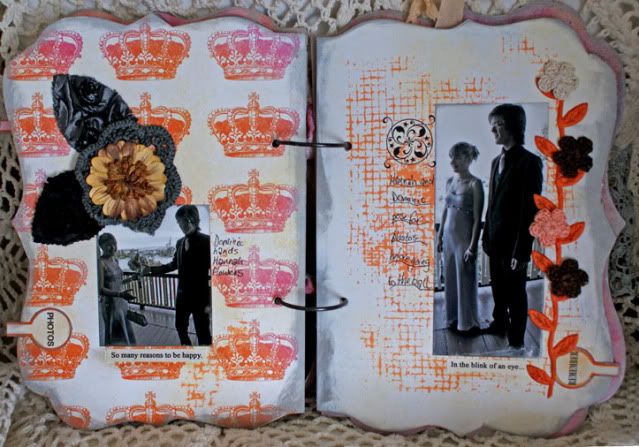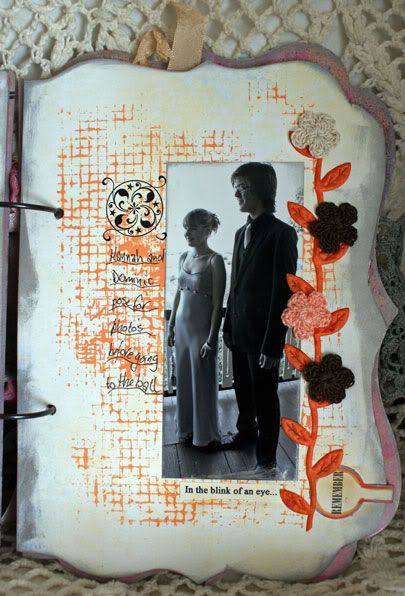 _________________
TERESA COLLINS 'GIVING THANKS' ALBUM
I always say.... any photos I use with Teresa's products pretty much need to be black and white... and they work a treat! Working with orange, white, black and cream is new to me, and I enjoyed it!! This might even get me working with more colour and pattern than I have in the past!!
For this project, it will be a 2011 calendar of monthly photos with journaling blocks to list or write about events.
You can find 'Giving Thanks'
here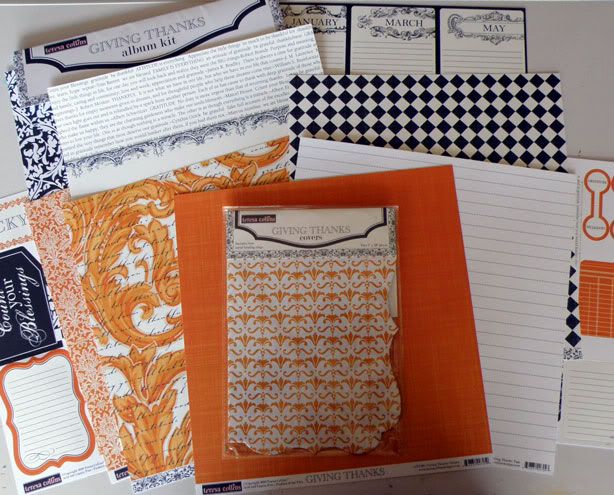 The cover was a bit stark white so I covered it with a thin layer of orange paint and it calmed it quite a bit. It can be sealed with either modpodge or impasto if you prefer. The two diecuts on the cover are from the kit.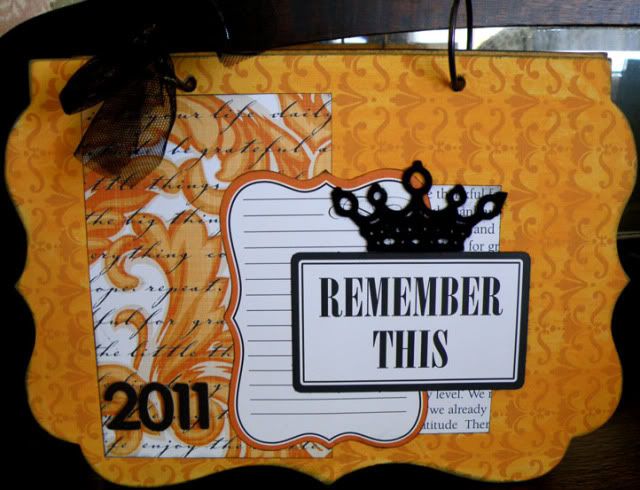 The paper with the months listed on it (as seen in the first photo's top corner) has six months on one side and six on the other which isnt very helpful when wanting to use them all, so I photocopied one side onto a light cream cardstock.
The pattern paper from the kit was measured to fit inside the covers and cut to the length needed for fitting the portrait sized 6x4" photo and the month's journaling block so they could be be stuck down on it. The journaling blocks are left blank for now as I'd really like my girls to write on them... from their perspective as well as mine.
The pocket and tag is from the kit...
The clock and 'family' diecuts are from the kit
The tag is from the kit
This page has a black spot where the photo for Easter will be placed.
The quote diecut is from the kit and I've cut out little easter eggs by hand from paper also from the kit.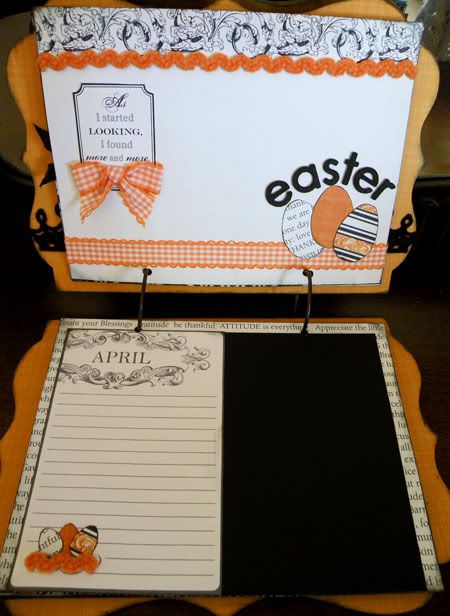 The rest of the months are finished except for photos and embellishments. I'll wait until I see what the photos are about before choosing what needs to decorate the top page.
One thing I did encounter was that the leftover paper after cutting half (weeeell just over half
) off for the first six months, wasnt quite long enough to use for the remaining months, so instead of cutting off the 'brand' strip along the bottom... I painted it black and that worked perfectly!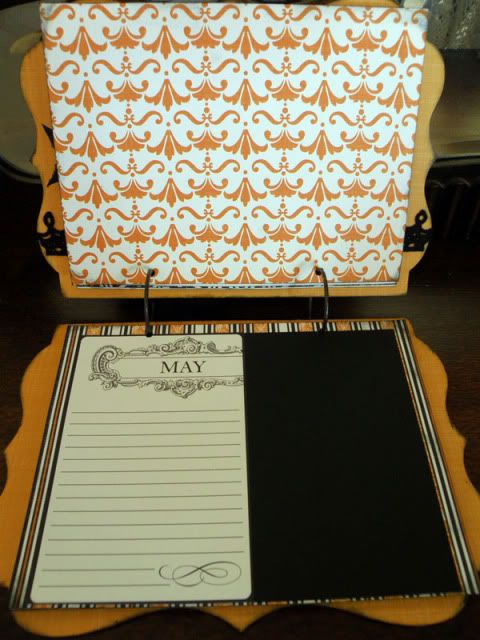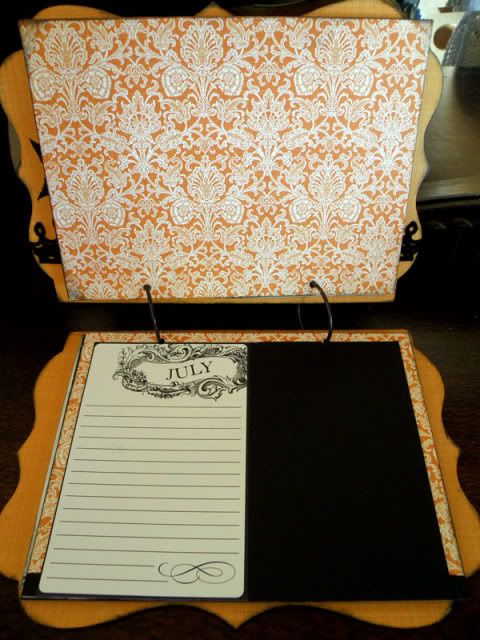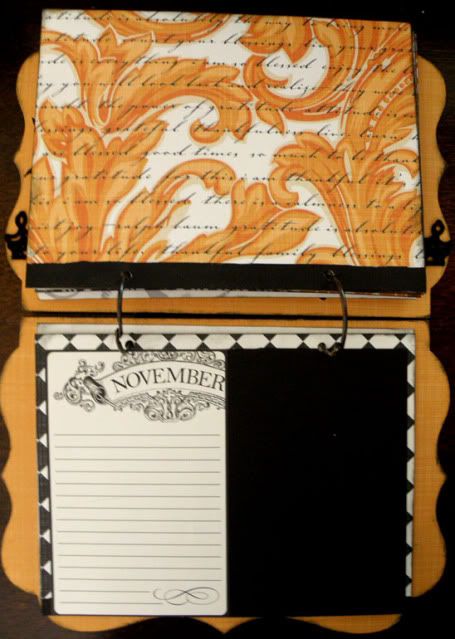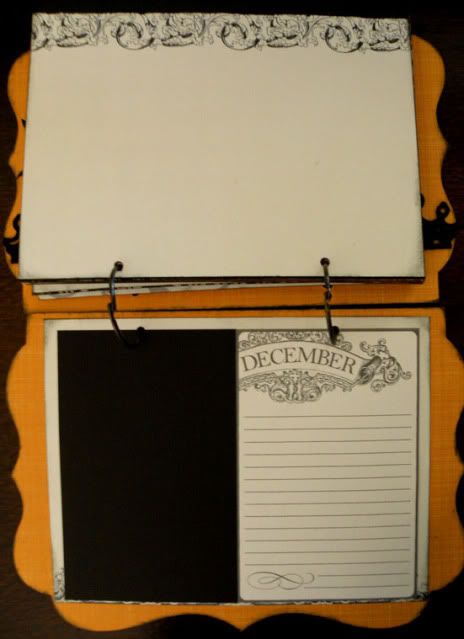 I hope you will give these album kits a go - they are fabulous!
----------------------------------------
STEP BY STEP BABY MINI ENVELOPE ALBUM
This
Chic Bebe Boy Card Kit
can be used for either 4 sets of Baby Boy Cards with diecuts to match
OR you can do what I did and make a lovely little Envelope Mini-Album!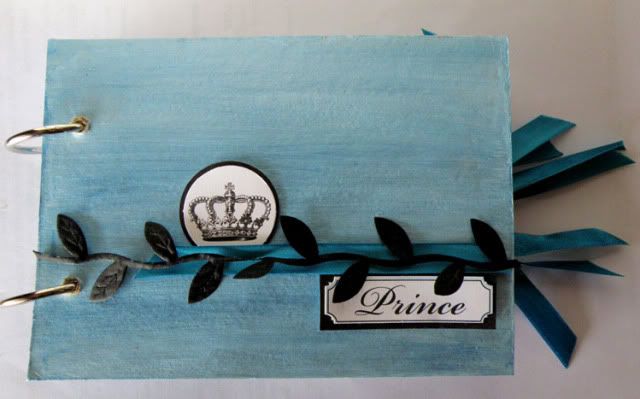 Step 1
Press out the envelopes and fold and stick leaving one end open (thank-you to Paige for being my 'hand' model while I held the camera!!!)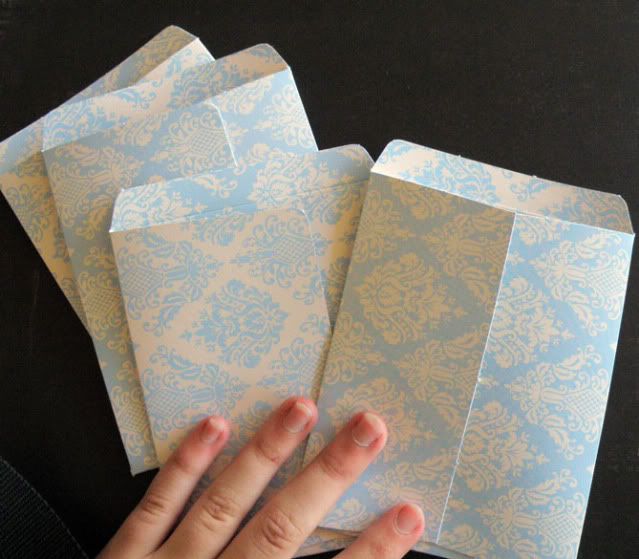 Should look like this when you squeeze the envelopes together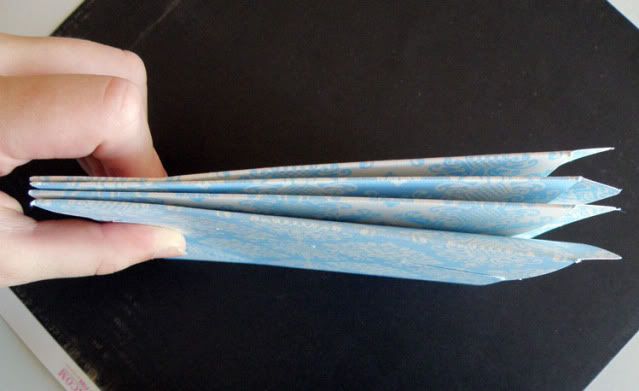 Step 2
To make some covers - cut out cardboard just a little bigger than the envelopes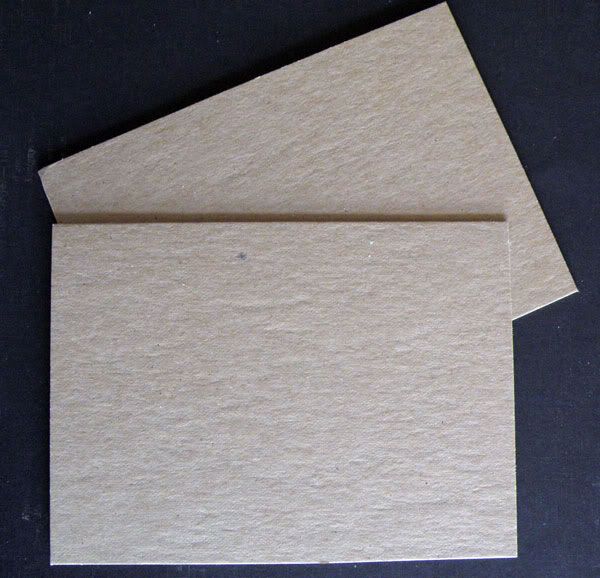 Should look like this when held together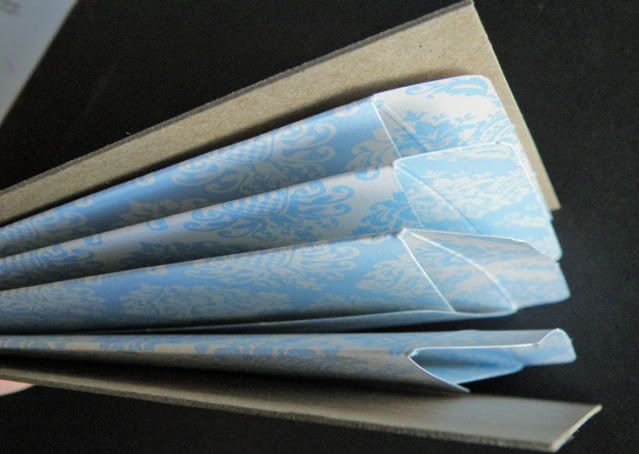 Step 3
I painted my covers (you could also glue matching cardstock or pattern paper if you prefer) but first I sealed the cardboard with gesso as I knew my paint was 'thin'.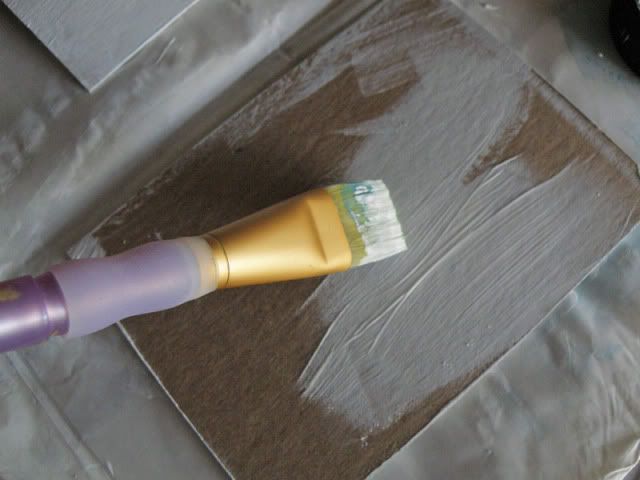 Then painted the blue which is a 'glaze' blue
Step 4
Once the paint was dry (I did seal it with impasto - or you could use modgepode etc) I measured and hole punched x2 into the covers and envelopes and join with 2 jump rings
Step 5
Punch out the invitations from the kit and fold in half. You might like to sand off all the little 'taggy bits' from tearing away the diecuts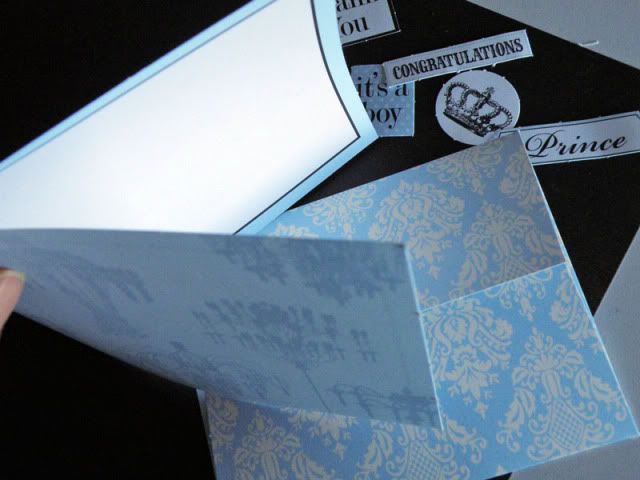 Step 6
Holepunch once in the middle and get ready to thread some ribbon
It should look like this:
Step 7
Insert into envelopes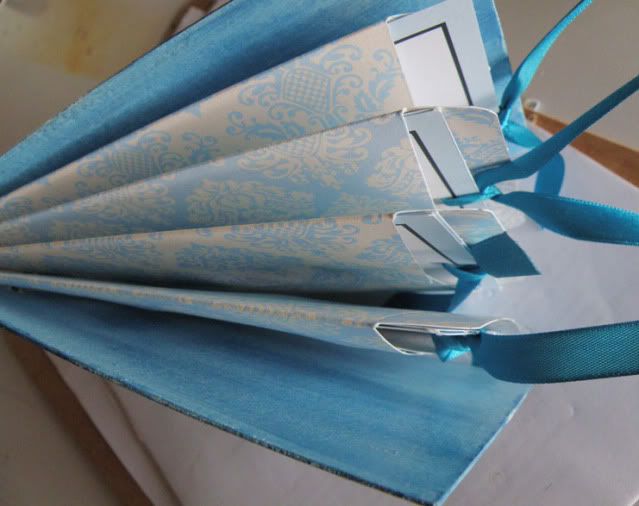 Step 8
Time to decorate the cover...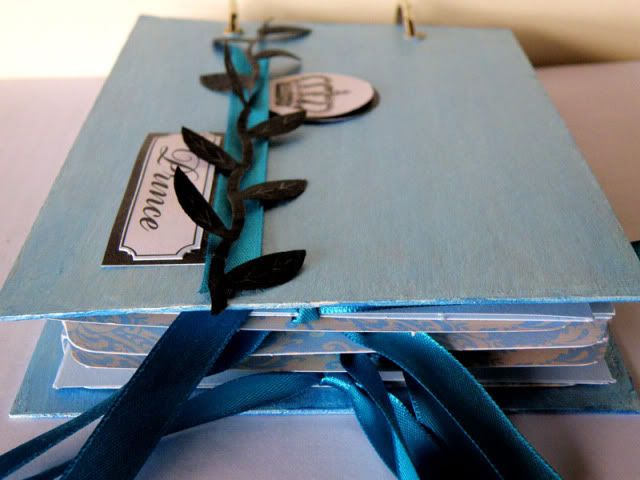 EXTRAS:
On the inside...
I painted on one side of the envelopes - which will probably have quotes on it - and the otherside with the joins will have a photo attached..
LETS NOT STOP AT BOY COLOUR...
Why not try this too:
I've only placed some pink prima rosettes here - but you get the gist!
If you want to give the album away as a 'baby shower gift' like I do, then I'm going to add into my gift the extra ribbon and embellies so my friend can change it to a boy or a girl mini-album..
This was a joy to make!
---------------------------------
Here's my DT sample to jack!
You can find all the dt members work
here
Check it out, plenty of fab scraplifting to be done!!
-------------------------------
This is a challenge I took part in at
Challenge Masters
which was a lot of fun to create
A lot of recyling! This was a very little Hannah with her beloved 'Bunny'
xx